Resealable Bag Standard
Strong 50um Bag With Snap-Close Self Seal
Plain and transparent for professional presentation and quick identification of contents, these standard resealable bags are widely used in industry, warehousing, hardware stores and craft shops, and provide reliable long-term protection against dust, dirt and moisture.
Manufactured from low density polyethylene tear resistant clear 50 micron plastic making them more suitable for lighter duty items and every day general use.
Sold and priced per carton.
| | | | | | | |
| --- | --- | --- | --- | --- | --- | --- |
| | | | | | | |
| PPR50203 | 50mm | 75mm | 2 x 3 | 50um | 1000 | Clear |
| PPR50304 | 75mm | 100mm | 3 x 4 | 50um | 1000 | Clear |
| PPR50305 | 75mm | 125mm | 3 x 5 | 50um | 1000 | Clear |
| PPR50405 | 100mm | 125mm | 4 x 5 | 50um | 1000 | Clear |
| PPR50406 | 100mm | 150mm | 4 x 6 | 50um | 1000 | Clear |
| PPR50407 | 100mm | 180mm | 4 x 7 | 50um | 1000 | Clear |
| PPR50508 | 125mm | 200mm | 5 x 8 | 50um | 1000 | Clear |
| PPR50608 | 150mm | 200mm | 6 x 8 | 50um | 1000 | Clear |
| PPR50609 | 150mm | 230mm | 6 x 9 | 50um | 1000 | Clear |
| PPR50810 | 200mm | 250mm | 8 x 10 | 50um | 1000 | Clear |
| PPR50812 | 200mm | 300mm | 8 x 12 | 50um | 1000 | Clear |
| PPR50912 | 230mm | 305mm | 9 x 12 | 50um | 1000 | Clear |
| PPR50913 | 230mm | 330mm | 9 x 13 | 50um | 1000 | Clear |
| PPR51012 | 250mm | 305mm | 10 x 12 | 50um | 1000 | Clear |
| PPR51115 | 280mm | 380mm | 11 x 15 | 50um | 1000 | Clear |
| PPR51216 | 305mm | 405mm | 12 x 16 | 50um | 1000 | Clear |
| PPR51520 | 380mm | 508mm | 15 x 20 | 50um | 500 | Clear |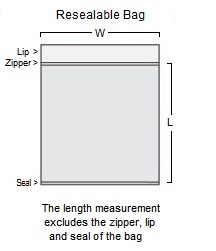 (PB_1705)
---
More From This Category