Clear Poly Bags Light Duty
35 micron LDPE bags for light duty use
Light duty 35um LDPE plastic bags are great for protecting your products or items from moisture and dust during your manufacturing or packing process.
Composed from high quality clear LDPE plastic, these 35um used for packaging and storage of smooth, light components e.g. clothing, confectionery, leaflets & booklets.
Simply seal with heat sealer, bag neck sealer or ties.
Sold and priced per carton.
| | | | | | | |
| --- | --- | --- | --- | --- | --- | --- |
| | | | | | | |
| PPL350406 | 100mm | 150mm | 4 x 6 | 35um | 2000 | Clear |
| PPL350408 | 100mm | 205mm | 4 x 8 | 35um | 1000 | Clear |
| PPL350509 | 125mm | 230mm | 5 x 9 | 35um | 1000 | Clear |
| PPL350609 | 150mm | 230mm | 6 x 9 | 35um | 1000 | Clear |
| PPL350709 | 180mm | 230mm | 7 x 9 | 35um | 1000 | Clear |
| PPL350810 | 205mm | 255mm | 8 x 10 | 35um | 1000 | Clear |
| PPL350612 | 150mm | 305mm | 6 x 12 | 35um | 1000 | Clear |
| PPL350712 | 180mm | 305mm | 7 x 12 | 35um | 1000 | Clear |
| PPL350812 | 205mm | 305mm | 8 x 12 | 35um | 1000 | Clear |
| PPL351012 | 255mm | 305mm | 10 x 12 | 35um | 1000 | Clear |
| PPL350913 | 230mm | 330mm | 9 x 13 | 35um | 1000 | Clear |
| PPL350714 | 180mm | 355mm | 7 x 14 | 35um | 1000 | Clear |
| PPL351014 | 255mm | 355mm | 10 x 14 | 35um | 1000 | Clear |
| PPL350815 | 205mm | 380mm | 8 x 15 | 35um | 1000 | Clear |
| PPL350915 | 230mm | 380mm | 9 x 15 | 35um | 1000 | Clear |
| PPL351016 | 255mm | 405mm | 10 x 16 | 35um | 1000 | Clear |
| PPL351216 | 305mm | 405mm | 12 x 16 | 35um | 1000 | Clear |
| PPL351017 | 255mm | 430mm | 10 x 17 | 35um | 1000 | Clear |
| PPL351018 | 255mm | 455mm | 10 x 18 | 35um | 1000 | Clear |
| PPL351218 | 305mm | 455mm | 12 x 18 | 35um | 1000 | Clear |
| PPL351220 | 305mm | 510mm | 12 x 20 | 35um | 1000 | Clear |
| PPL351824 | 455mm | 610mm | 18 x 24 | 35um | 500 | Clear |
| PPL351830 | 455mm | 760mm | 18 x 30 | 35um | 500 | Clear |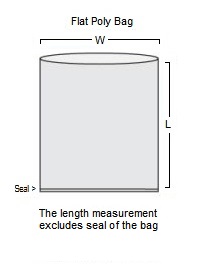 (PB_1605)
---
More From This Category