Clear Poly Bags Standard Duty
50 micron LDPE bags for medium duty use.
Keeps substance clean, dry and in sight. No trouble to secure with a bag neck sealer, heat sealer or tying tool and great for either grouping components together or keeping pieces separated.
Manufactured from high quality, clear LDPE plastic, these 50 micron medium duty plastic bags come with a multitude of uses.
This gauge is the most popular choice for general food packaging, DIY, retail display, bolts, fixings, panels and kits etc.
Sold and priced per carton.
| | | | | | | |
| --- | --- | --- | --- | --- | --- | --- |
| | | | | | | |
| PPL500406 | 100mm | 150mm | 4 x 6 | 50um | 2000 | Clear |
| PPL500507 | 125mm | 180mm | 5 x 7 | 50um | 1000 | Clear |
| PPL500408 | 100mm | 205mm | 4 x 8 | 50um | 1000 | Clear |
| PPL500609 | 150mm | 230mm | 6 x 9 | 50um | 1000 | Clear |
| PPL500810 | 205mm | 255mm | 8 x 10 | 50um | 1000 | Clear |
| PPL500812 | 205mm | 305mm | 8 x 12 | 50um | 1000 | Clear |
| PPL500913 | 230mm | 330mm | 9 x 13 | 50um | 1000 | Clear |
| PPL500915 | 230mm | 380mm | 9 x 15 | 50um | 1000 | Clear |
| PPL501016 | 255mm | 405mm | 10 x 16 | 50um | 1000 | Clear |
| PPL501216 | 305mm | 405mm | 12 x 16 | 50um | 1000 | Clear |
| PPL501218 | 305mm | 455mm | 12 x 18 | 50um | 1000 | Clear |
| PPL501220 | 305mm | 510mm | 12 x 20 | 50um | 1000 | Clear |
| PPL501420 | 355mm | 510mm | 14 x 20 | 50um | 1000 | Clear |
| PPL501424 | 355mm | 610mm | 14 x 24 | 50um | 500 | Clear |
| PPL501530 | 380mm | 760mm | 15 x 30 | 50um | 500 | Clear |
| PPL501836 | 455mm | 915mm | 18 x 36 | 50um | 500 | Clear |
| PPL502436 | 610mm | 915mm | 24 x 36 | 50um | 300 | Clear |
| PPL502836 | 710mm | 915mm | 28 x 36 | 50um | 300 | Clear |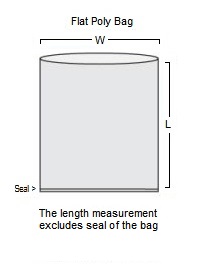 (PB_1610)
---
More From This Category