Clear Poly Bags Extra Heavy Duty
100 micron LDPE bags for extra heavy duty use.
Heavy duty 100 micron LDPE plastic bags are ideal for warehouse, office and industrial applications. Due to the increased thickness in micron these bags are tough and are ideal for bulkier goods.
Simply seal with heat sealer, bag neck sealer or ties
Sold and priced per carton.
| | | | | | | |
| --- | --- | --- | --- | --- | --- | --- |
| | | | | | | |
| PPL100406 | 100mm | 150mm | 4 x 6 | 100um | 1000 | Clear |
| PPL100507 | 125mm | 180mm | 5 x 7 | 100um | 1000 | Clear |
| PPL100609 | 150mm | 230mm | 6 x 9 | 100um | 1000 | Clear |
| PPL100610 | 150mm | 250mm | 6 x 10 | 100um | 1000 | Clear |
| PPL100812 | 200mm | 300mm | 8 x 12 | 100um | 1000 | Clear |
| PPL100813 | 200mm | 330mm | 8 x 13 | 100um | 1000 | Clear |
| PPL101015 | 255mm | 380mm | 10 x 15 | 100um | 1000 | Clear |
| PPL101218 | 305mm | 455mm | 12 x 18 | 100um | 500 | Clear |
| PPL101520 | 380mm | 510mm | 15 x 20 | 100um | 500 | Clear |
| PPL101524 | 380mm | 610mm | 15 x 24 | 100um | 400 | Clear |
| PPL101824 | 455mm | 610mm | 18 x 24 | 100um | 300 | Clear |
| PPL101832 | 455mm | 810mm | 18 x 32 | 100um | 200 | Clear |
| PPL102036 | 510mm | 915mm | 20 x 36 | 100um | 200 | Clear |
| PPL102436 | 610mm | 915mm | 24 x 36 | 100um | 200 | Clear |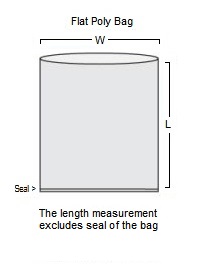 (PB_1620)
---
More From This Category